Growth Mindset Notebook
Regular price

TL259.00

Sale price

TL207.20

Unit price

per
Growth Mindset Notebook is designed to remind you the art of growth that you can adapt to every area of your daily life.
Growth is not about coping with challenges or accepting failure, but rather a springboard from which you develop your talents and learn from your mistakes. With the Growth Mindset Notebook, you will remember that "we tend to grow against difficulties".
When you feel ready to step out of your comfort zone, the obstacles that life throws at you will push you to your limits and bring out the shell-shifting phase we call "growing". In your journey to evolve into the version you want to be, your first stop will be to experience this shell-shifting phase, no matter how challenging and tiring it may seem.
As you progress through your journey, you will find that the tree in this notebook, also known as the growth tree, grows with you. In some cases, the unobservable growth phase will be embodied thanks to the blooming tree and remind you of the way you have come so far. In this notebook, where you will see 4 different growth phases to remind you that each growth is pregnant to another growth, you will witness that each peak is the bottom of another mountain.
Technicial Specifications:
Growth Mindset Notebook is produced using 110 gr. premium quality pulp paper to increase the pleasure of writing.
It was also ensured that the lifespan was maximized by using rigid cardboard for the covers.
Width: 22 cm, height: 16 cm, depth: 1 cm.
There are no returns or exchanges on this product. In case the product cannot be delivered, the shipping fee will be deducted and a refund will be made.
Share
Musteri degerlendirmeleri
100
yorumcular bu ürünü tavsiye eder
Yorum Yapın
02.02.2023
Aybüke G.

Turkey
Bu ürünü öneriyorum
Mindful ajanda
Gerçekten çok güzel tüm haftayı görmenizi sağlıyor. Bir hafta geçtikten sonra o sayfayı koparıp alt ve üstte yazan sözleri kesip kavanozumun içine koyuyorum. Kendimi kötü hissettiğimde bir tanesini çekip okuyorum. Bana güç veriyor:)
25.01.2023
Seçil

Turkey
Growth Mindset Notebook
Hedeflerinize olan yolculuğunuzda yazdıkça farkındalığınızı arttıran , yol haritası oluşturmanıza yardımcı muhteşem bir defter. Yazdıkça motive olup, günden güne ilerleyişinizi keyifle takip için ..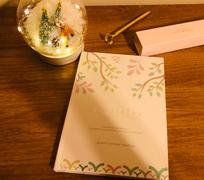 Bu ürünü öneriyorum
Growth Mindset Defter
Hedeflerinize olan yolculuğunuzdan keyif almanızı sağlarken farkındalığınızı arttıracak muhteşem defter…Yanınınızda oldukça yazmak, yazdıkça düşünmek, düşündükçe uygulamak ve bunu görebilmek